Developed and patented by Europe Mannequin, the standing man MDP TE11 model has been specially developed to suit vintage uniforms and costumes, especially total height, shoulder width, waist, and thigh and calves circumferences.
The face is hand painted with a 5 o'clock light shadow and sharper face outlines to accentuate realism.
Articulations on shoulders allow the arms to slightly swing.
Rotating hand ( molded from real male human hands ) are made of thermoformable plastic. Fingers can be bent by dipping them in close to boiling water for about 20 seconds and applying moderate amount of force to bend the fingers. This operation can be done several times. There is also a space between each fingers to allow the fitting of gloves.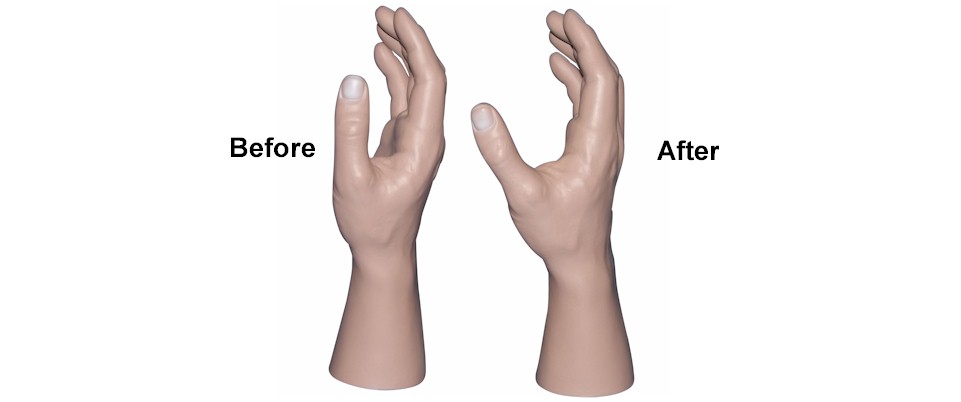 The two-part removable feet make it easy to put on shoes or boots even in small sizes. Their specific shapes facilitate insertion and allow a slight swing to the left or right of the forefoot to increase the seat and modify the stature of the mannequin. Self-adhesive plastic pads, which can be stuck under the front or back of the feet if necessary to compensate for the different shapes of shoes and heels and thus increase stability, are supplied with the mannequins. The front calf-foot mounting rods are removable to make them easier to insert into the boots.

Available optional dorsal rod for additional secure support where circumstances require its use , for example outside or areas where the public might knock off the mannequin.
Features :
Hand painted face with a 5 o'clock light shadow and sharper face outlines.

180 ° head rotation

Removable and interchangeable head

Thermoformable plastic hands (finger moderately bendable by immersion in hot water). Spaces between fingers to allow fitting of gloves.

Rotating hands

Articulated shoulders allowing the arm to slightly swing.

Two part feet that disassemble and allow to easily put on shoes.

Optional dorsal rod for secure additional support.

Included a brushed metal base with a fastening system to the back of the calf. Note that in most cases the mannequ ins will stand without the base.
Mannequin sizes :

1 : Head girth : 56,5 cm


2 : Shoulders width : 44 cm

3 : Chest measurement : 90 cm

4 : Waist measurement : 70 cm

5 : Hip measurement : 80 cm

6 : Inseam measurement : 88 cm

7 : Feet length : 21 cm

8 : Height : 1m76